Kalika Tallou Davis Redefines Beauty and Holistic Business Success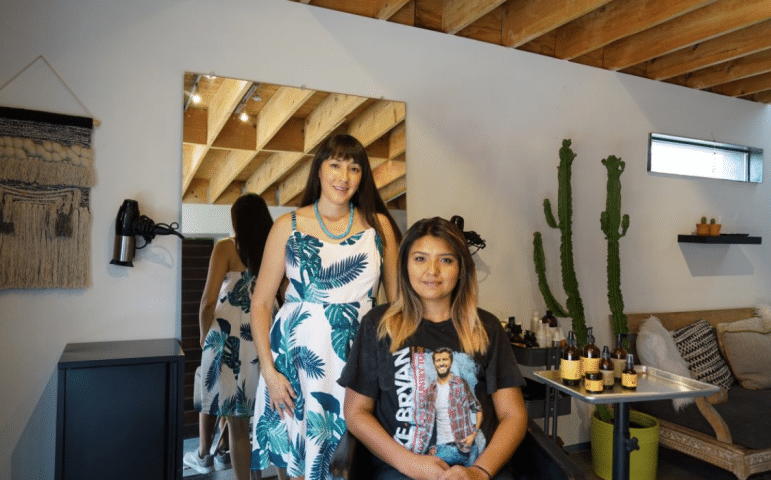 "Hozhó is remembering that you are a part of the Earth's brilliance. It is finally accepting that yes, you are a sacred song that brings the Diyin Dine'é, the holy people, to their knees in an almost unbearable happiness. Hozhó is remembering your own beauty." -ASDZÁ NÍLCH'I' BIK'IDÉEZ'ÍÍ
A prayer and a vision quest led Kalika Tallou Davis (Diné, Ute) to create Salon Tallou, a boutique salon for "holistic hair artistry" in Albuquerque, New Mexico. She also credits her trusted mentors through New Mexico Community Capital (NMCC) and the Native Entrepreneur in Residence (NEIR) Program with helping her devise and fine-tune her business strategy.
About five years ago, Tallou Davis founded her salon, which uses all biodegradable and organic haircare and coloring products.
"Her business model is exquisite," attests Lyla June, Diné and Tsétsêhéstâhese (Cheyenne), an internationally renowned public speaker and entrepreneur in her own right. (Read more about June in "International Speaker Lyla June Talks Creating Businesses That Give & Heal.") Tallou Davis subscribes to a "rebellious definition of beauty," according to June, "that beauty comes from within, not without. Here she is, owning a beauty salon, and she's committed to this idea that if we don't take care of Mother Earth and take care of our bodies, what is beauty worth?" asks June, a longtime friend and soul sister who has facilitated Diné language classes at Salon Tallou with Tallou Davis.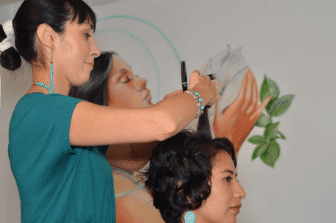 The Impetus for Salon Tallou  
After graduating from beautician school, Tallou Davis spent many years as a mainstream beautician, using conventional hair products that contain chemicals that can contaminate sewage systems, ground water and nearby rivers and bodies of water.
"I started noticing the hazardous chemicals that we were being exposed to and building a personal resistance against it," Tallou Davis says. So she began researching organic hair salons in her area to align herself and work with, but options proved very limited. "That's when I decided to open my own organic hair salon," she says.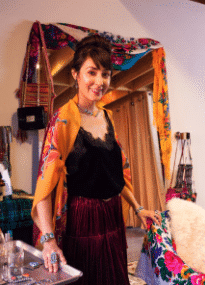 Tallou Davis found mentors to work under—one who specializes in organic color and another with a focus on African-American and ethnic hair who does not use relaxers or offer any harsh chemical services. "It was more braids and twists and indigenous styles. She also came on board and worked in my space for a period of time," Tallou Davis notes.
Salon Tallou utilizes an "ammonia-free hair color system that relies on botanical-based ingredients and coconut oil lipids to massage and let the color in," says Tallou Davis, who is also in the process of creating her own haircare line using local herbs.
Beyond hair care, Salon Tallou treats people holistically, rather than strictly concentrating on external facets of beauty. The salon hosts gatherings, meditations and herb workshops. "We also decided to offer healing services at Salon Tallou, like massage and ayurvedic consulting, an ancient Indian philosophy and life-way that revolves around food as medicine," says Tallou Davis, now an expecting mother, who is taking a short breather from the salon's events as she prepares to give birth.
Tallou Davis considers the "deep connection" that she's cultivated with her clients over many years of business as fundamental to her success. Her longtime client relationships have blossomed into friendships. "That anchors me and keeps me going on the holistic path that we walk," she notes.
"I really value and center my business around being a social enterprise. I embrace the philosophy of keeping people and prayer at the heart of what we do, while also knowing that we need that abundance to have a good income, and we deserve that. We're going to give that much more back, and spread that wealth and abundance around," Tallou Davis says.
Tallou Davis' husband [Henry] Jake Foreman, an educator and entrepreneur, emphasized the salon's commitment to cultural sustainability as well. "Salon Tallou is a dynamic space that not only provides natural products and superb organic services but also supports indigenous culture through Diné language classes and mentorship for Native youth," says Foreman, who serves as Program Manager of Financial Literacy/Business Basics through NEIR, a program established by NMCC, a private, nonprofit Community Development Financial Institution (CDFI).
Tallou Davis participated in the NEIR program, a six-month intensive accelerator including mentorship and a stipend, to launch her business and to take it to the next level. "The NEIR Program was extremely instrumental in the success and stability of my business, and purchasing the products that I needed, in addition to helping me to hire women and interns, training them and paying them a living wage. That was incredible and has continued to open up so many more doors for me. I've been able to connect with many more Native entrepreneurs and build a network here in the Southwest—particularly in Albuquerque," Tallou Davis says.
Through NEIR, Tallou Davis co-curated the inaugural Native Women's Business Summit, created and hosted by multiple female members of the NEIR Program (60 percent of NEIR graduates are women). The sold-out summit took place at the Indian Pueblo Cultural Center in Albuquerque, New Mexico, April 13-14, 2018. "NEIR and the Native Women's Business Summit offer that sustainability and network and membership to say that we're here with you and that you're not alone," Tallou Davis states.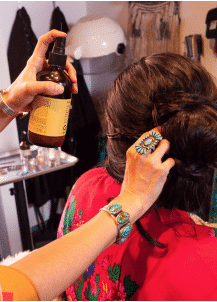 Tallou Davis assisted in the process of acquiring speakers for the Native Women's Business Summit and helped to facilitate crowd-funding and social media strategy. "We had more than 19 dynamic speakers. We sold-out and had people wanting to get in, and people snuck in. It was really incredible to see that this was such a need," she says.
While speaking with Native Business Magazine, Tallou Davis expressed her deep gratitude for NEIR, which empowered her to build and grow her business. "I was very scared to open my own business and felt like I was going out on a limb. Now I'm extremely grateful, because it's opened up all these incredible doors that I wouldn't have been able to walk through unless I was a business owner and entrepreneur," says Tallou Davis, who now feels like she's entered the "sharing and diffusing stage" of entrepreneurship to empower other aspiring entrepreneurs.
Tallou Davis' advice to up-and-coming entrepreneurs is to "follow your passion and your joy compass. What really excites you and ignites you? That passion will keep you going through the more difficult times. I also found benefit in not being afraid to ask for help or connect with people in the community or with mentors. Reach out to them and ask them. Pick their brain or go to coffee. Don't hold back, because I find that people want to share, and it's not their knowledge to just keep. They want us to grow as a collective."
She added, "When you rise, I rise, we all rise. Dreams do come true."
Visit Salon Tallou at salontallou.com, 1022 Carlisle Blvd SE, Albuquerque, New Mexico, (505) 507-2368.