Business not as usual: Future Is Indigenous Women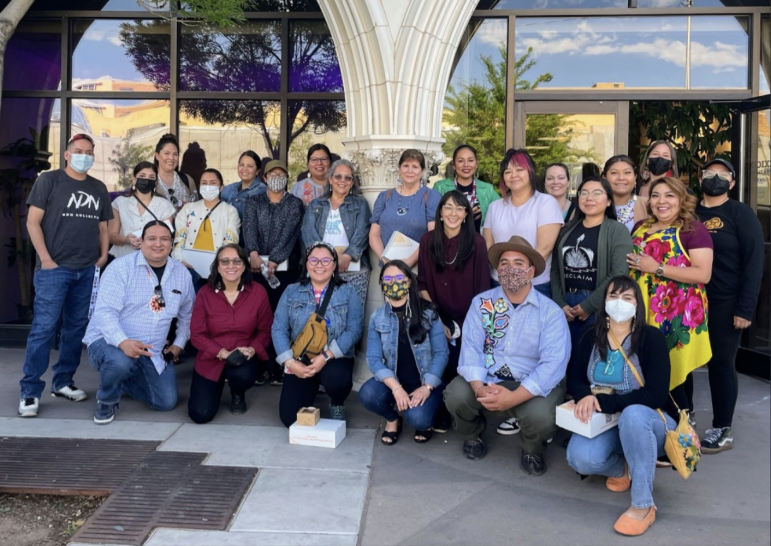 "The Future is Indigenous Women" collaborators stand in front of NMCCAP headquarters in Albuquerque, New Mexico. (Photo courtesy of Kalika Tallou Davis)
__
As I step out of the Albuquerque sun into the breezy, Indigenous-led offices on Gold and Third Street, I am met by Native women, their warm greetings, their laughter. Little did I know their financial revolution—rooted in Indigenous values and worldviews—would soon leave me awestruck and in tears.
I have come to learn about their gargantuan, multi-faceted project, sparked by an ecosystem of powerful Indigenous organizations: Native Women Lead, New Mexico Community Capital, and Roanhorse Consulting LLC. These three teams collectively won a $10 million award through the "Equality Can't Wait Challenge" to honor and empower Indigenous women entrepreneurs. They call this program: "The Future is Indigenous Women".
In the process, they are disrupting how money moves and who can access it. Conventional institutions lend to people based on the "Five C's of Credit": Character, Capacity, Capital, Conditions, and Collateral. But these Indigenous organizations lend based on the "Five R's of Rematriation": Revolutionary, Restorative, Regenerative, Relational, and Rooted.
As I enter the conference room, the delicious aroma of hand-made blue corn tacos fills the air. They have been prepared by Cleo Otero, a recipient of the Matriarch Creative Fund and recent graduate of the Circle of Support program, which brings leaders of the industry in as mentors. Otero, a formerly houseless Diné/Zuni woman, has humble business beginnings: a pop-up tent selling food at gatherings and roadsides. Today she has a full-fledged catering business, stocked with inventory and equipment, and is working towards a permanent establishment. She sources her foods from local Indigenous farmers and hunters to provide fresh food. Maybe this is why her tacos may be the best I've ever had. In her spare time, she and her husband take to the Albuquerque streets to feed other unsheltered people for free, knowing the challenges of that world all too well.
"To me my food is medicine. I won't cook if I'm in an awkward mood because it reflects on the food. I heard about the Native Women Lead Summit, and I knew I had to go. How can I be self-sustaining? How can I grow? How can I know we won't run out of money or…" — Otero pauses to shed some tears — "…be on the receiving end of feeds for unsheltered people. Now we are not. We are even able to give back consistently. We can go cook for others. This community base and strengthening of Indigenous women is big."
Vanessa Roanhorse, Diné and co-founder of Native Women Lead and owner of Roanhorse Consulting, LLC, has dedicated much of her life to building financial power for Indigenous people. She grew up watching her mother and grandmother struggle to feed their children, systematically excluded from financial systems. "I watched those women do so much with so little," she says. "Every time they did it, they did it from a place of community. I know in my heart that Indigenous women, when they're back in control of resources, will do that not only for themselves but for everyone around them."
Around the talking circle, story after story pours forth of how this community has picked them up from broken and lonely places — places Native women know disproportionately well. All of their businesses have common themes: a commitment to Mother Earth, to Indigenous traditions, to changing systems, and to honoring women.
Kalika Tallou Davis, Diné/Southern Ute and co-founder of Native Women Lead and Marketing Manager at New Mexico Community Capital, remembers the challenges of opening her beauty salon. "Of course I felt very alone," she says. "I didn't see many Indigenous women leading in the beauty industry yet. It was a leap of faith to even open my business at the time." With help from this network, her salon thrived, using only non-toxic beauty products for the health of humans and environment.
The team of organizations just wrapped up a large wave of regenerative $10,000 loans and entrepreneurial technical assistance for twenty women through their "Matriarch Creative Fund". The second wave, the "Matriarch Restorative Fund", will launch this month to provide loans up to $50,000 to seven women, as well as continued technical training, virtual assistants, mentorship, and technology. The group aims to support 3,000 Indigenous women with culturally relevant technical assistance and innovative loan programs over the next 4 years.
I'll be the first to admit, I am somewhat anti-business, anti-capitalistic, and anti-Western economy. But as we sit in this talking circle, I am continually moved to tears hearing all the ways this powerful engine has empowered Indigenous women to heal themselves and their communities. I realize this is not capitalism — this is service. Service to Earth and to people. Perhaps I should have expected nothing less from a team of Native women.
I also realize this rolling stone is just getting started. The coalition recently landed a slot at the annual Bioneers Conference in California to showcase their vision. They've recently partnered with Cahokia PHX — an Indigenous women-led art space — to provide financial courses to Phoenix-based Indigenous women entrepreneurs. They will launch more "Circle of Support" and "Deluxe Business & Marketing Essentials" programs later this month. Their new website launches late summer: www.TheFutureIsIndigenousWomen.com.
Our talking circle closes with Jaime Gloshay, Diné/White Mountain Apache/Kiowa and co-director of Native Women Lead: "The beauty and magic of Indigenous women…When that power is honored, when that power is shifted, when non-profits, philanthropy, and white institutions both cede and seed that power, it's such a ripple effect. The work we do in this larger movement of Rematriation is the future. The world is calling us to do this now."
To learn more about the Equality Can't Wait awardees visit: https://www.equalitycantwaitchallenge.org/results
See also: https://nmccap.org, https://www.nativewomenlead.org, and https://roanhorseconsulting.com