Building Relations in Michigan
We are proud to share highlights about our recent trip to Michigan to research and connect with tribes, tribal members and Native serving organizations about hosting our next Financial and Business Basics course in 2020. We met diverse community members from language coordinators, artists, educators, investment directors, economic development specialists, and farmers.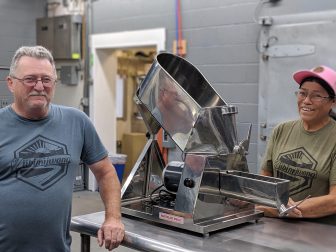 On our first day, we were able to travel to Mackinaw City and visit with the team at Minogin market which is owned and operated by the Little Traverse Bay Band of Odawa Indians. They offer local and Native American vegetables, fish, food products, maple syrup, arts and more. We then met up with market manager Rosebud Schneider at the Ziibimijwang Farm about 30 minutes away from the Minogin Market. Ziibimijwang Farm is committed to improving the welfare of the whole community through sustainable agriculture, organic growing, and improving Indigenous food systems. They were able to show us around on their 300-acre farm that continues to grow to support Indigenous food sovereignty.

On the next day, we traveled down to Dowagiac for a quick visit and met Rhonda Rose who manages the Pathways Program, which provides tribal citizens with access to training, internships and job opportunities for long-term gainful employment with the Mno-Bmadsen Family of Companies. 
The NMCC team was also able to meet with program officers at the W.K. Kellogg Foundation in Battle Creek to share our progress made in replicating our Financial & Business Basics course in Michigan.  They shared about the work they're supporting in Michigan as well as potential connections with other grantees. They look forward to learning about our process and partner development and we are grateful for their continued support. 
Our NMCC Board chair Kip Ritchie helped us connect with tribal economic development specialists like Kurtis Trevan, CEO of Grand Rapids-based Gun Lake Investments, the non-gaming arm of the Match-E-Be-Nash-She-Wish Band of Pottawatomi Indians. We were able to learn about all of the economic diversification efforts including investing in real estate and local businesses with a special emphasis on putting people first.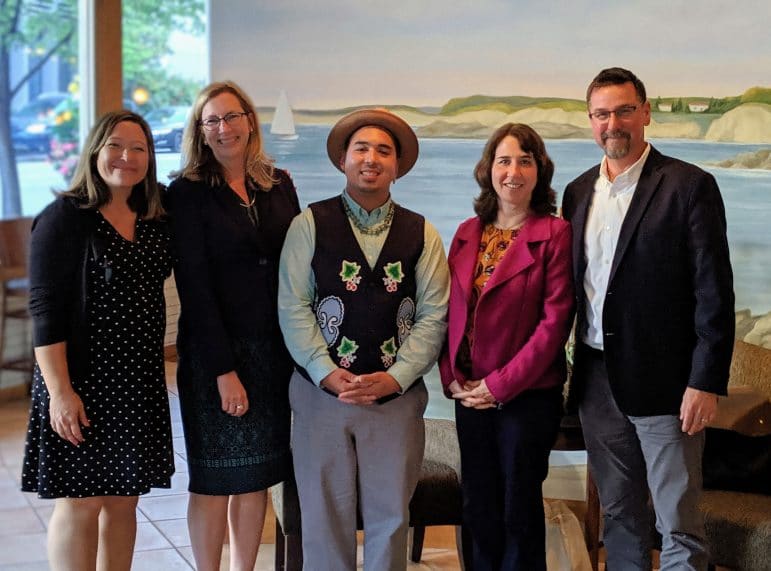 We were also able to have dinner with President and CEO Deidra Mitchell of Waséyabek Development Co. LLC, the Grand Rapids-based economic development arm of the Nottawaseppi Huron Band of the Potawatomi and Monica King, managing partner and CEO of DWH LLC. DWH has experience working with tribally-owned economic development corporations (EDCs) on assessment and business planning. Their insight and knowledge have helped deepen our understanding of the complex and interrelated nature of working in Michigan.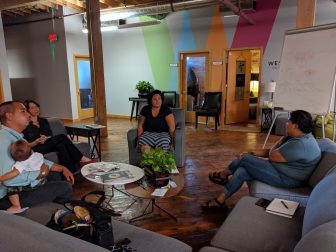 Our last meeting was with Sarah Brant and Nicole Raphael with the Westside Collaborative which is a collective of non-profits ways that make a significant and intentional impact on the lives of our residential Westside Neighborhoods. These individuals work with Native American living in West Grand Rapids and shared more about their human-centered approach that focusses on collective impact for the greater community. We have a deeper appreciation for the world of urban community development and we applaud all of the work that these individuals do to create opportunities for the Native Americans living in Grand Rapids as well as for the larger Michigan community.
We would like to thank all the tribal members we met throughout our trip to Michigan exploring ways to increase financial literacy among Native American tribes in that state. We hope to continue cultivating our relationship in the future and we are honored to continue these conversations about our Financial & Business Basics curriculum and how we can co-develop a plan and process to implement it in Michigan. We are impressed by the amount of growth that has happened for tribes in Michigan throughout the past two decades and we hope for everyone's continued success! Thank you to all the tribal members we met throughout our trip to Michigan exploring ways to increase financial literacy among Native American tribes in that state.